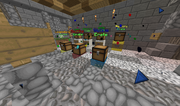 The cratesstall is the place where the majority of the mob tokens is used.
To buy keys to open some of the crates, you need to farm and upgrade mobtokens, which is usually done using a creeper farm. Mobtokens can also be purchased on the website here Such as those for the Armour and Tools and Mystery crates. You can also purchase extra tokens from the above link in order to buy keys from the in-game vendor.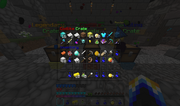 The mystery crate can only be opened with the key from an Ultimate Crate Package, nobody really knows what it contains. Unlike the other crates, it doesn't display all of the available items.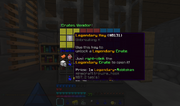 Community content is available under
CC-BY-SA
unless otherwise noted.