The casino is used to earn some extra money. You can give it a shot at /warp casino.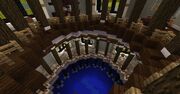 You'll find slots (noteblock and 3 rows of blocks). Some are expensive, and some are cheap. The more expensive ones will give a bigger reward. You can find these expensive ones upstairs at the casino.
A slot gives you information if you right-click on it.
You can start gambling by left-clicking on the noteblock.
Only horizontal rows gives you a reward. Diagonal doesn't count.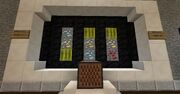 Only members are allowed to use the casino. You can become a member by verifying your minecraft character on the site.
Community content is available under
CC-BY-SA
unless otherwise noted.